The Leader of the Council
Councillor Mark Topping is the Leader of the Council. His role is to have overall responsibility for the vision and corporate objectives of the council. He is the principal spokesperson for us and represents our views to the public and other organisations we work with. 
Biography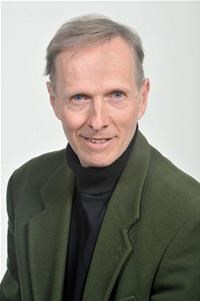 Mark studied theology at university. After a spell as a Franciscan novice he worked as a journalist on local newspapers and radio, including a few years as a press officer for an overseas aid agency. For the last 25 years he's made his living as an actor.
It was the climate emergency that spurred him to stand for election to the Forest of Dean District Council in 2019. He lives with his family near Lydney where he is a ward councillor.
Priorities
Climate and nature emergencies
Thriving communities
Sound finances
Public engagement
Mark says: "The goal is to enable our communities here in the Forest to thrive in a way which enables future generations to thrive too.
"To do that, we have to meet the serious challenges posed by the climate and nature emergencies. Whatever else we might want to do we need a planet to do it on."
Financial allowances
Councillor Topping gets a basic allowance and a Leader's special responsibility allowance. Find out more about councillor allowances and their code of conduct,
Related Pages